HOME > Our Services > Packaging Services
Our package engineering service aims to provide the ideal packaging for your product, while minimizing the final packaging needed. At our ISTA®-certified Package Engineering Center, we find smarter ways to design and test packaging for transport and delivery, helping to achieve both greater ecology and cost reduction.
Package Engineering Service
Mitsubishi Electric Logistics' total packaging services are geared to the specific needs of our customers. Our package engineering services begin with consultation to gain a thorough understanding of the special characteristics of the product, and what the specifications and logistical requirements are. Then we begin planning the packaging design. In designing and testing, we try to determine the ideal minimum level of packaging needed for safe and efficient transport. This approach is both cost-effective and ecologically well-considered: by reducing packaging, we help lower materials costs and lessen environmental impact.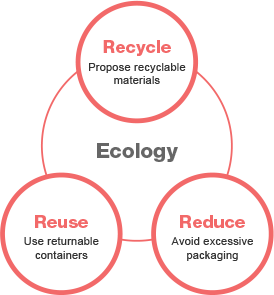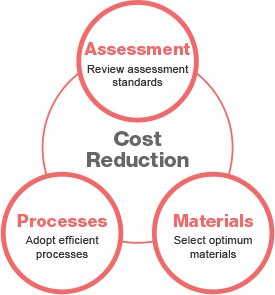 Our Process:
1. 3D CAD-Based Package Design

After clarifying the prerequisites, functions and specifications needed for the goods being transported, we use 3D CAD and CAE to design the ideal packaging.
2. CAM-Based Trial Production

Once design is finalized, we use specialized CAM and our advanced sample cutter to create trial packaging for assessment testing.
3. Assessment Tests Using Global Standards (ASTM, EIA, ISO, MIL, JIS, etc.)

Using a range of global standard tests, we carry out an assessment of the packaging materials and packaged cargo. Such tests include:
Temperature & humidity testing
Buffer cushioning and impact testing
Burst testing
Electric Static Discharge testing
Compression testing
Drop testing
Vibration testing
ISTA®-Certified Package Engineering Center
Mitsubishi Electric Logistics has set up an advanced Package Engineering Center in Amagasaki, Hyogo Prefecture, Japan. Complete with a range of cutting-edge design and testing equipment, it's where we create our packaging solutions, and carry out most of the assessment tests that we offer as part of our package engineering service. The Package Engineering Center was granted ISTA® laboratory certification in 2012, making it one of the few ISTA-certified facilities of its kind in Japan.
ISTA® Laboratory Certification demonstrates a strong commitment to transport packaging professionalism, as well as assuring a laboratory is properly equipped to conduct ISTA® package performance testing.

ISTA: International Safe Transit Association (ISTA) is an organization focused on the specific concerns of transport packaging. Its mission to develop and deliver standards, educational programs and tools for the economic, social and environmental optimization of packaging systems. Learn more about ISTA here.