HOME > Our Services > Forwarding & Customs Clearances Services
Mitsubishi Electric Logistics is a veteran at providing optimized ocean and air freight forwarding services that are customized to the type and configuration of your freight, the volume of cargo, the amount of lead-time required, and other factors unique to your needs. Maximizing on our global experience, we also offer extensive customs clearance services to handle import/export procedures, for easier door-to-door transport.
Our services include:
Air freight forwarding (door-to-door)
Ocean freight forwarding (door-to-door)
Transportation planning
Intermodal transport
Security systems and control
Cargo insurance
Customs brokerage and licensing
Forwarding Services
We have close professional connections with more than 40 marine shipping companies and more than 20 air carriers, ensuring that we can provide the right ocean or air forwarding solution, whether it's from a customer's country to Japan, or from Japan to another country. Mitsubishi Electric Logistics renders competitive, cost-effective and flexible forwarding services.
Ocean Freight Forwarding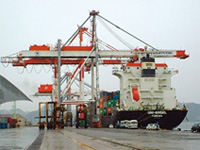 As a non-vessel operating common carrier (NVOCC), Mitsubishi Electric Logistics offers optimized ocean freight forwarding services that are suited to customer needs. Leveraging our experience, worldwide network and freight booking capabilities with more than 40 major ocean freight shipping companies, we are a reliable provider of marine transport services to and from countries across the globe.
In addition, we can handle full container loads (FCL), less than container load (LCL) and special containers in order to tailor the method of transport to the volume and characteristics of our customers' freight.
Air Freight Forwarding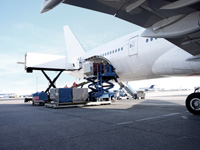 Mitsubishi Electric Logistics is also an air freight forwarder, applying our robust global capabilities to provide air forwarding and transport services from Japan to the rest of the world. From more than 20 air carriers with which we work, we select the one that best suits customer needs, for smooth, "to-door" delivery. Such choices include:
Direct flights when lead-time is the major consideration
Indirect or transit flights when cost-reduction is the major consideration
Dedicated cargo flights for transport of large-scale freight
Customs Clearance Services
Customs procedures differ slightly in every country, so it takes a partner with plenty of experience to handle customs clearance. Mitsubishi Electric Logistics has provided broad-ranging global customs clearance services to the Mitsubishi Electric Group for decades; we understand the intricacies of the procedures in various countries, and offer this expertise to all our clients, ensuring a smoother import/export process. In particular, we have robust systems in place for all of Japan's major ports and airports, to support our customers' customs clearance needs.