HOME > About Us > Corporate Overview > The Logistics Spirit
The Logistics Spirit
At Mitsubishi Electric Logistics, we are driven by what we call "The Logistics Spirit." This spirit comprises three bests: being our customers' "best partner"; providing "best quality" logistics services; and proposing the "best solutions" for today's needs. Our Logistics Spirit inspires us to offer the very finest logistics solutions to all our customers.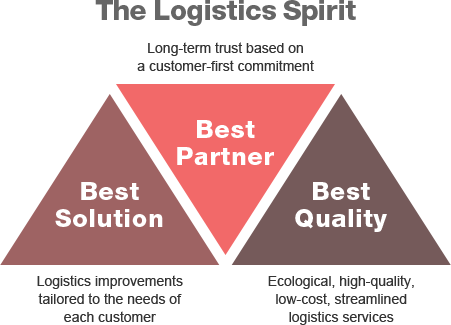 Best Partner
We work to develop a long-term relationship of trust with customers. Our customer-first philosophy allows us to apply the extensive logistics expertise and experience cultivated through our decades of service to the Mitsubishi Electric Group, and tailor it to individual needs, ensuring customer satisfaction, and building the base for enduring partnerships.
Best Quality
We provide cost-efficient, value-added logistics services of the highest quality, addressing our customers' diverse needs for total corporate logistics services, for international logistics in an ever-more globalized world, for advanced information systems to help streamline distribution, and for compliance with strict environmental regulations.
Best Solution
We start by listening to our customers in order to fully understand their needs and concerns. Once we have identified the exact logistics challenges and other issues involved, we apply our experience and know-how to plan and create the best possible logistics system solution for each company.