HOME > Our Services > Warehouse Management Services
With logistics centers across Japan, Mitsubishi Electric Logistics provides customers with outsourced total storage and warehouse management services. We customize our solutions to your specific needs, including your unique inventory management, sorting, and mixed lot delivery requirements—enabling fast delivery of your products, and bringing added flexibility, efficiency and effectiveness to your supply chain.
Warehouse Management Services Flow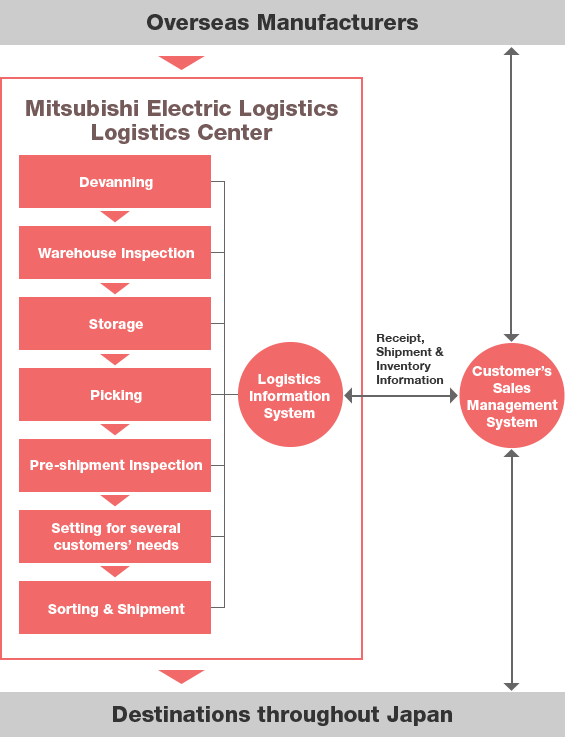 Customer Case Study: Trek Japan Corporation
Mitsubishi Electric Logistics provides import and logistics services to and throughout Japan for Trek Bicycle Corporation, a market-leading US bicycle and cycling product manufacturer, and Trek Japan Corporation, its subsidiary in Japan.
Because sports bicycles are highly customized to suit the physical attributes and personal preferences of the rider, Trek has a product lineup comprising some 500 bicycle models and some 2000 different kinds of parts and accessories. For that reason, inventory control and individual lot management require detailed instructions along with quick and responsive shipping to keep the product moving. That's why Trek turned to Mitsubishi Electric Logistics: with our extensive experience and broad-ranging warehouse management services, we are able to reliably and flexibly deliver a variety of bicycles and parts to Trek's approximately 300 retailers across Japan.
1. Inspection at warehouse
First, we ship bicycles and accessories manufactured at Trek's overseas factories to Japan. When the products arrive at our logistics center, we carefully inspect them. Product names, quantities, etc. are confirmed using handheld terminals, after which we visually check the outer packaging. Products are then warehoused in line with customer needs.
2. Inventory Control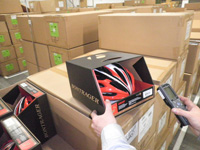 Our robust EDI systems link Trek, our logistics center, and our information center so that product receipt, shipping and inventory information can be shared in real-time between the parties. When an order is received from a retailer, Trek uses the online system to issue shipping instructions to Mitsubishi Electric Logistics.
3. Order picking according to individual shop instructions
When shipping orders from each individual retailer are received, Mitsubishi Electric Logistics proceeds to product and/or accessory order picking, ensuring careful confirmation of serial numbers. We also affix the guarantee forms (cards) and provide packing and preparation services.
4. Delivery to more than 300 stores across Japan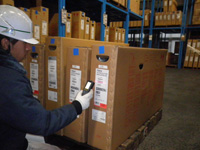 Our logistics center handles shipment of some 500 bicycles and 2100 accessories each day. In line with the customer's requirements for delivery dates, quantities and cost, we select the ideal shipping method and ensure delivery of products to Trek Japan's more than 300 stores, retailers and dealers across the country.