HOME > Our Services > Total Logistics Services
As a long-time supplier of global logistics to the Mitsubishi Electric Group, we can provide customers with a comprehensive range of integrated worldwide logistics solutions to address today's business needs. Our total logistics systems provide the speed, accuracy, ease, reliability and cost savings you're looking for—in Japan or elsewhere.
Integrated Global Logistics and Export-Import Logistics
Mitsubishi Electric Logistics is a total supplier of logistics services. We tailor our solutions to customer needs, offering a fully integrated logistics system extending from parts procurement and shipment of finished products, to distribution processing or other warehouse contained operations, and delivery to all corners of Japan, as well as markets worldwide.
Integrated Logistics Services Flow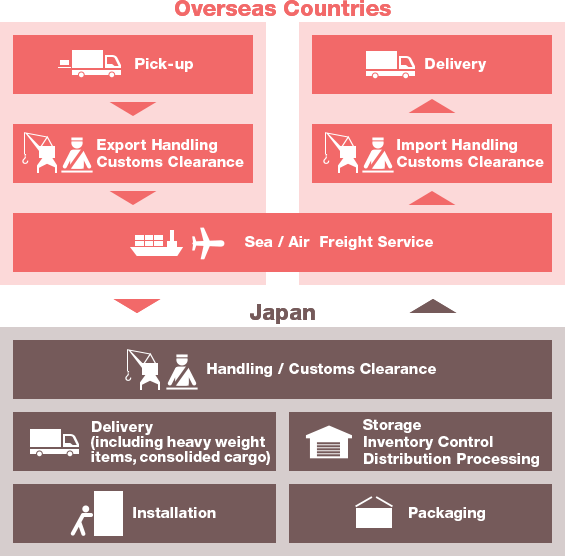 Our logistics solutions are based on a robust program of consulting, system design, operation, and management. Applying the manufacturing and distribution experience gained through servicing the Mitsubishi Electric Group, we design the ideal integrated solution for our customers, maximizing on our vast domestic and global network, and advanced information and management tools.
In global logistics, we help set up an integrated system meticulously tailored to ensure our customers fully integrated door-to-door global logistics services, including import-export services from other countries to and throughout Japan, from Japan to other countries, and between other destinations worldwide. We also offer out-to-out logistics services, and use engineer dispatches to provide technical assistance for customers establishing local services outside Japan.
Our integrated logistics systems make possible faster and more accurate response; and streamlining our customers' logistics achieves impressive labor and cost savings.
Information Systems Supporting Our Global Logistics Services
Export, customs clearance and import procedures are all made easier through Mitsubishi Electric Logistics. We provide information services best suited to specific product and client needs. Our information systems and software enable high-level control from procurement through sales logistics, reducing customer logistics costs and raising the quality of customer corporate management.